Editor-in-Chief
SARAH FENG
Sarah is a poet and novelist from the San Francisco Bay Area. She was a 2018 Foyle Commended Young Poet of the Year and the runner-up for the Adroit Prize for Prose. Her design, editorial, and creative writing work have also been recognized by Teen Vogue, the Critical Pass Junior Poet Prize, the Alliance for Young Artists & Writers, the Leyla Beban Young Author's Foundation, the California Coastal Commission, Write the World, the Live Poets Society of New Jersey, the National Council of Teachers of English, the American Scholastic Press Association, and more. Her work is in The Adroit Journal, Gigantic Sequins, and Up the Staircase Quarterly. She was Kenyon Young Writer's Workshop '18 and the Adroit Journal Summer Mentorship '17. You can find her here.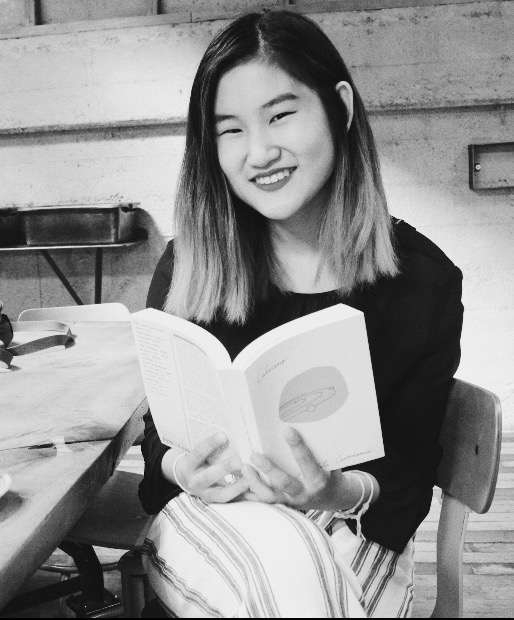 Managing Editor
RACHEL LU
Rachel Lu is an undergraduate at Hamilton College in upstate New York. She has been recognized for her work by the Alliance for Young Artists & Writers and her work appears in Voyage and Red Weather. She misses the sun at her home in the San Francisco Bay Area.
Prose Editor
SOPHIE ALLEN
Sophie is a freshman at UMass Amherst. She does not know how often she should be watering her cactus, but is doing her best. Find her on Twitter at @spiiriitkiid or Instagram at @sallen.jpg.
Poetry Editor
JENNIFER ROUSE
Jen Rouse is the Director of the Center for Teaching and Learning at Cornell College. Her work has appeared in Poetry, Gulf Stream, Parentheses, Cleaver, Always Crashing, Mississippi Review, and elsewhere. Rouse is a two-time finalist for the Charlotte Mew Prize. Headmistress Press has published her books Acid and Tender, CAKE, and Riding with Anne Sexton. Find her at jen-rouse.com and on Twitter @jrouse.
Art Editor
AKHILA BANDLORA
Akhila is a sophomore at BASIS Phoenix residing in Arizona. She has been awarded eleven times regionally through the Scholastic Art and Writing Awards, where she serves as co-president of her local affiliate. Additionally, she has been formally published by Young Authors of Arizona, fromthebowseat, and the Rising Phoenix Review. Some of her favorite thing include cinnamon rolls, the numbers four, seven, and eight, and the color red.
Poetry Reader
ZINEB LAADIOUI
Zineb is the poet on the loose from Morocco, but her heart resides in every country and culture. She wants you to keep writing until all the ink in the world dries (which will never happen).
Poetry Reader
PATRICK TONG
Patrick is a high school junior from the northern suburbs of Chicago. His work has been recognized by the Scholastic Art and Writing Awards, the Poetry Society of the UK, and appears in Eunoia Review and Rising Phoenix Review. Besides reading for COUNTERCLOCK, he currently serves as an Executive Editor for Polyphony H.S. and a copy editor for its affiliated blog, Voices.
Prose Reader
MAYU ALTEN
Mayu is a junior at Los Altos High School in California. In her free time, she enjoys reading, running, and fangirling. She hopes to someday meet George R. R. Martin and the cast of Game of Thrones.
Prose Reader
LEAH CHASE
Leah is a senior at Long Beach Polytechnic High School. She has been noted as a finalist for the Columbia College Chicago Young Authors Writing Competition in Fiction, a California Art Scholar, and a participant in the Iowa Young Writers Studio. She has a fascination for all mediums of art and aspires to learn several languages in her lifetime.
Poetry Reader
WOODY WOODGER
Woody lives in Lenox, Massachusetts. Her work has appeared, or is forthcoming, from DIAGRAM, Drunk Monkeys, RFD, Exposition Review, peculiar, Prairie Margins, Rock and Sling, and Mass Poetry Festival, among others, and her poetry has been nominated for Best of the Net. Her first chapbook, "postcards from glasshouse drive" (Finishing Line Press) has been nominated for the 2018 Massachusetts Book Awards. In addition, Woodger served as Poet in Residence with the Here and Now in Pittsfield MA.
Poetry Reader
JANE ROSENBERG LAFORGE
Jane has been nominated for the Pushcart Prize, the storySouth Million Writers Award, and the Best of the Net. Her novel, "The Hawkman: A Fairy Tale of the Great War" (Amberjack Publishing 2018) was a Montaigne Medal finalist in the Eric Hoffer Awards. Her memoir, "An Unsuitable Princess: A True Fantasy/A Fantastical Memoir" (Jaded Ibis Press 2014) received an honorable mention in HEEB's Best Books of the (Jewish) Year 5774. She has published four chapbooks of poetry and her full-length poetry collections are "With Apologies to Mick Jagger, Other Gods, and All Women" (Aldrich Press 2012) and "Daphne and Her Discontents" (Ravenna Press 2017).
Design Director
SHEREEN LEE
Shereen lives and studies in Taipei. Her work as a journalist and creative writer has appeared in the Ploughshares blog, Lambda Literary, the Adroit Journal, and others. She currently serves as the managing editor of TRACK//FOUR, a literary journal for people of color, and can be found on Twitter @shereen_lee_.
Claire S. Lee, Editor-in-Chief (2018–2019), is a college student from Southern California. Her writing has been recognized by Tinderbox Poetry Journal, Ringling College of Art and Design, the National YoungArts Foundation, and the National Scholastic Art & Writing Awards and appears/is forthcoming in THRUSH Poetry Journal, Inklette, The Indianapolis Review, Rising Phoenix Review, *82 Review, Noble/Gas Qtrly, Alexandria Quarterly, and Blue Marble Review, among others. She is a California Arts Scholar and a poetry reader for Winter Tangerine Review. Her editing work has been recognized by the NCTE and the Del Mar Fair.
Rachel Evelyn Sucher, Founder & Editor-in-Chief (2017-2018), is a queer-identified Vermont writer, activist, performer, horsewoman, and intersectional feminist. Her poems have been shortlisted for the International Literary Award (Rita Dove Award in Poetry) and the Dan Veach Prize for Younger Poets, and longlisted for the Brett Elizabeth Jenkins Poetry Prize. Rachel is also a founding member and editor of Mandatory Assembly literary journal. A mentee in the Adroit Journal Summer Mentorship Program and the Glass Kite Anthology Summer Writing Studio, she has also attended the New England Young Writers' Conference at Bread Loaf and the Champlain College Young Writers' Conference. Her work is forthcoming in Tinderbox, Luna Luna Magazine, Dream Pop Journal, Yes Poetry, Channillo, and Rising Phoenix Review, as well as the anthology Destigmatized from Madness Muse Press. When she isn't wrestling writer's block or the patriarchy, Rachel can be found snuggling puppies, making music, and overthinking in her nerdy poet's notebook. Connect with Rachel on Facebook, Instagram, Twitter, and her website, Rachel Sucher Writes.